2017 Financial Report for the Open Source Technology Improvement Fund, Inc.
In 2017 OSTIF experienced substantial growth, and expanded our reach to multiple new areas of computing and software safety. We conducted an audit of OpenVPN 2.4.0 in partnership with QuarksLab and launched our bug bounty program.
This document is intended to inform our donors and the public about our operations and their related expenses. It is to show how our money is spent, and give ourselves a tool to evaluate how we are performing with regard to our goals and aspirations.
Let's start with our fundraising:
Across 2017 we raised a total of $201,009 which greatly exceeded our expenses of $76,335 and represented a 216% increase in revenue over FY2016.

OSTIF continues to grow rapidly as we expand our reach and bring more industry partners on board! With 2018 aimed at completing 4 major projects and bringing on over a dozen more projects for future support, we expect revenue and growth of our organization to continue to grow with the size of our community of developers and privacy advocates.
Expense breakdown and goals:
Across 2015 and 2016 we spent a total of $76,355. These expenses are broken down into 5 categories. You can see the categories and their descriptions below:
| | |
| --- | --- |
| Charity | These are expenses that are related to our actual charitable activities. This spending is for auditing, bug bounties, and grants paid to projects that we support. |
| Administrative Costs | These are costs like keeping the corporation and its nonprofit status registered with state and federal agencies. |
| Pay | This is pay for our managers. Each manager does not draw a salary, but gets a bonus of 2% of the value of a fundraiser. This keeps our expenses low while still providing incentive to perform. |
| Technology Costs | This includes costs like consulting, web hosting, DDoS hardening, purchasing SSL certificates, and more. |
| Promotional Costs | These are small promotional costs for things like T-shirts and licensing for music/art for OSTIF guide videos. |
Expense Breakdown: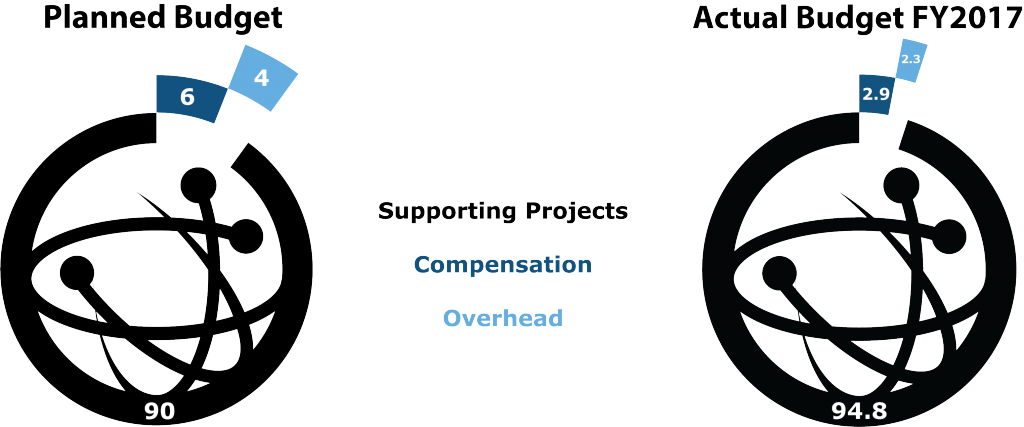 On the left we have our original targets and on the right we have our results.
We have beaten our goals that were laid out in 2016! Our non-project spending totaled just $10,663, beating our 10% overhead target by a wide margin. This means that for FY2017 94.8% of our revenue has gone directly to helping open-source projects get stronger (or is unspent waiting for the next project). Technology costs remain our largest overhead expense, making up 1.9% of our expenses, and administrative costs have fallen substantially, making up only 0.1% of our expenses (down from 0.9%). The administrative decrease was expected as there were many one-time filing costs associated with establishing OSTIF as a corporate non-profit. We allocated small amounts to our budget for marketing, shooting a bumper video with our interns and doing some experimental targeted Twitter advertising. This made up 0.3% of our budget (up from 0%).
Looking Forward to 2018:
In 2018 we expect to again see substantial increases in contributions and results. This will be due to our track record encouraging the participation of larger donors and governments, as well as our continuously growing community. We want to complete at least 4 major projects in 2018 and will be preparing for another large expansion of supported apps for 2019.
We remain committed to our 90% efficiency target. We will continue to tightly control our expenses and keep costs low. We are proud to be among the most efficient charities of the world, and an increase in funding will only increase our performance per dollar.
I want to extend a special thank you Private Internet Access, DuckDuckGo, and all of our community supporters who have helped make OSTIF a success. We look forward to working with the community to continue to create a safe internet for all of us!